Meet Dr. Joshua Moninger, N.D.
---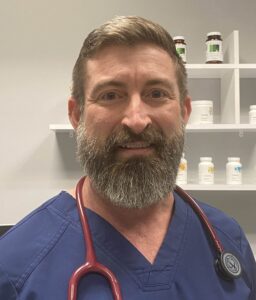 I have worked as a naturopathic physician in men's hormone replacement and erectile dysfunction treatments since 2013 and more recently with revolutionary regenerative treatments that improve men's sexual vitality and performance including POTENTshot™, POTENTwave™, trimix therapy, and many other therapies for men. I have worked with several thousand men over the past decade to help them achieve their full potential health.
My passion for health optimization began during my own personal struggle with illness. I was a pre-med college student and was diagnosed with Crohn's disease not long after graduating. I was unimpressed with the conventional medical system that I was a part of. Being from Ohio, Naturopathic Medicine was not on my radar. Fate brought me to Portland in 2005, where I discovered the National University of Natural Medicine first as a patient, and then as a student.
Since graduating in 2012, I have been on a journey to learn more about ancestral health, hormone optimization, and healthy aging. With diet, exercise, stress management, and hormone optimization, I have continued to maintain full remission from Crohn's disease without any pharmaceutical interventions, and have been able to keep up the goal of being just a little healthier on each birthday than I was on the previous. I credit hormone optimization and diet as the two most important factors in this success. It feels like a major accomplishment to be healthier in my late 40s than I was in my early 30s. 
In my free time I enjoy spending time outdoors with friends and family, whether it be hiking, snowshoeing, or paddle boarding. I also love to travel, especially road trips and adventure off-road motorcycle tours. Indoor activities that I enjoy include cooking/grilling, reading science fiction and nonfiction, weightlifting, and tinkering with automotive projects in the garage.
---
We Have Helped Thousands of Men & Women Just Like You
---
Are you suffering from symptoms and diseases we've all been told are just an inevitable part of getting older, when in fact they're really caused by low testosterone and possibly by low levels of other hormones, which can be treated? 
Are you suffering from erectile dysfunction or other sexual health complaints? Have you been told that this is just another inevitable result of getting older? Are you wondering if there's any way that you can have a robust and vibrant, enjoyable sex life again?
Are you suffering from chronic joint and body injuries and pain that are preventing you from enjoying your mobility and activities?
Are you getting older, and wanting to keep your younger, thicker, smoother, and more vibrant-appearing skin?
Are you having trouble preventing weight gain or losing weight despite doing everything that you can think of in terms of diet, exercise, and other lifestyle measures?
If so, then it's really important that you see a doctor with expertise and successful experience evaluating and managing these diseases by prescribing testosterone and comprehensive hormone replacement therapy, and other anti-aging and regenerative therapies for men and women.
Our distinguished team of physicians and staff has more than 10 years of experience successfully treating thousands of men and women near Portland, Oregon and Seattle, Washington, helping them to live and perform to their full potential quality of life, health, and longevity. 
Call 971-319-4636 for more information or help with scheduling an appointment.
Click here to request a call to answer any questions you may have or to schedule an appointment.
---
---